Robert Allen says Muskogee was not on his radar when he was growing up.
However, once Allen got to Muskogee, it took almost no time for him to get involved in the community.
Allen hails from the Ohio River town of South Point, which he said is as far south in Ohio as one could get. He recalled getting married and starting his own business in that area.
Then his wife got a call to work at a cancer center in Tahlequah.
"Me owning a business, I had no interest to move out here," he said. "She came out, toured the hospital, met with her team. Within 60 days, we moved to Oklahoma."
He said the family agreed to stay in Oklahoma for three years.
"A funny thing happened," Allen said. "We had two children during the three-year window."
The family moved to Muskogee, made friends and "got plugged in" at Boulevard Christian Church. Allen said he moved his mother to a home next to theirs in Muskogee.
"We got them out here, started making all these friends," he said. "We kind of forgot about going home."
Allen said he started his computer repair business in Muskogee in July 2014. He said that after four years his company is looking at expanding and hiring 20 more people in the next six months.
Allen soon got involved with Rotary Club of Muskogee. His interest in mountain biking helped him land a spot on the Gruber Off-Road Vehicle park board. He also makes regular trips to a CrossFit gym in Fort Gibson.
"Community has taken us in," he said.
Cycling gets him off the grid
Growing up in the Ohio Appalachian Mountains made it easy for Robert Allen to take up mountain biking. He said he rode semi-professionally from age 16 to 22.
"I guess I was always just good at it," he said. "As a child, I was faster than the other guy was. Next thing you know, I was doing races every weekend."
He said he probably spends more money than he should on his bike.
"Bicycles are very much like vehicles," he said. "You can spend a little on them, or you can spend a whole lot of money. Of course, with the increased money comes increased performance. You can get started with a bike from a sporting goods store, to getting something custom made."
Allen met his wife while cycling. He said they're planning to bike around the hilly Eureka Springs, Arkansas, area for their 10th anniversary.
"I just love being out on that open road, or in the woods by ourselves," he said. "I get to decompress. I get freedom. I'm not tied to a cellphone. When I'm on a bike, I'm off the grid."
Changing lifestyle with CrossFit
Allen recalled getting into CrossFit exercising "out of necessity."
"I always enjoyed staying fit, and then I got that 'dad body' after so long," he said. "When I turned 40 two years ago, I went in for a physical. I was feeling fine, but I went away with four prescriptions. The doctor said 'you need to change your lifestyle, and you need to get fit.'"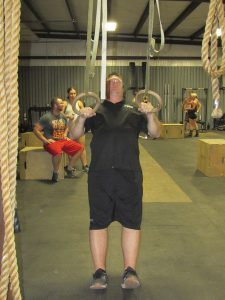 Allen said he and his family go to a Fort Gibson CrossFit gym five times a week for the 7 p.m. one-hour class.
"It's not anything like a typical gym, where you go in and there's a bunch of machines," he said. "This is actually coach-driven. Everybody that's there is doing the same workout at the same time, and the coach observes to make sure you're doing it safely."
He said the main difference is that he has direction. Classes include cardio exercises and conditioning. He said the workouts get intense and he sometimes has to drag himself to his car.
However, Allen said his fitness level has "increased dramatically."
"I am now off my medication," he said. "I went from four pills a day down to nothing."
Joining a group to help others
Allen found a way to meet people and serve the community through Muskogee's Rotary.
He said he attended a few initial meetings as a guest of Rotarian Daniel Miller.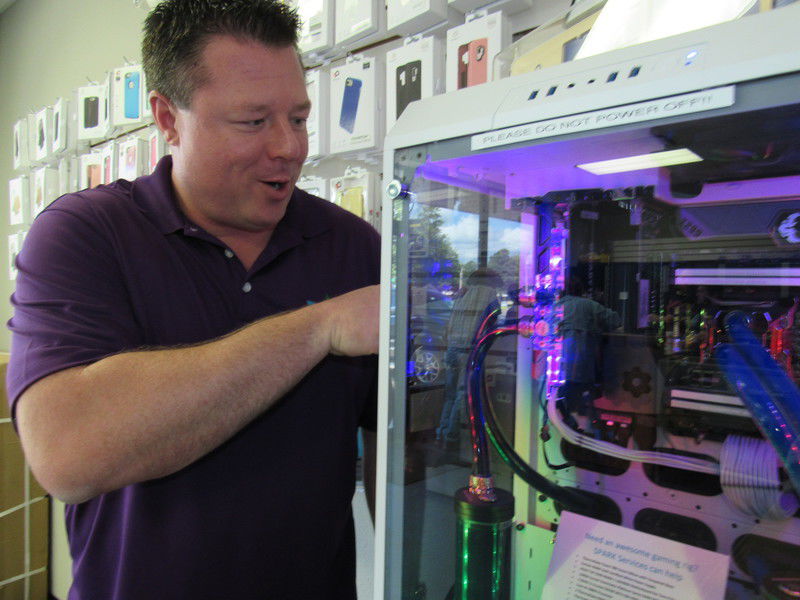 "Every time I left a meeting, I walked away feeling I knew a lot more than when I got there," Allen said. "The speakers were really fantastic. After going there for so long, I joined."
He now serves as Muskogee Rotary president.
"I lead the weekly meetings every Thursday at noon," he said. "I go to board meetings. I'm on several committees."
He encourages others to get involved in Rotary. He said he puts "come be my guest" on his Facebook page.
Allen said Rotary has helped him become more aware of community issues, such as poverty. He said even some after-hours get-togethers turn into service projects. For example, members put labels in dictionaries during a recent evening gathering at Muskogee Golf Club.
"Now, Rotary has moved onto more service-based projects, such as clean water," he said. "That's why we have our Party in the Park. Rotary is such a good way to be a part of something that's much bigger than you."
HOW DID YOU COME TO BE AN OKIE FROM MUSKOGEE?
"We lived in Park Hill, and being that my job was around the internet, IT services, we had to find a place that had high-speed internet, so we literally pulled out a map and thought 'where is somewhere we can live where she can commute to work and I can still have internet services.' We found it to be Muskogee. We rented a house here for about eight months. Then we bought a house here. She was here on a three-year term. Funny thing happened along the way, we started making friends and got plugged in at our church."
WHAT DO YOU LIKE BEST ABOUT MUSKOGEE?
"I love the people. I think we have a great, diverse crowd. There's always someone interesting, even the articles in the Phoenix. I read something new every day that I just didn't know. We have so much stuff here. I also believe Muskogee is primed for massive growth."
WHAT WOULD MAKE MUSKOGEE A BETTER PLACE TO LIVE?
"We probably need to put all our differences aside and work together as a team, to see a lot of change. Our roads are terrible."
WHAT PERSON IN MUSKOGEE DO YOU ADMIRE MOST?
"A couple of people who took me in when they didn't have to, Ken Doke and Daniel Miller. I met them at a Chamber event when we moved into town. They took me in and started introducing me to people."
WHAT IS THE MOST MEMORABLE THING TO HAPPEN TO YOU IN MUSKOGEE?
"When we had our youngest daughter, we went into labor Christmas Day, 2013. The hospital sent us to Hillcrest…. I said 'I'll pack your bag and meet you at the hospital.' Our driveway is really steep. I go into the garage, turn the car off and I couldn't get the keys out of the switch. So, I get out of the car, shut the door. Now the car wouldn't start. Come to find out was, I didn't put the car into park."
WHAT DO YOU DO IN YOUR SPARE TIME?
"CrossFit five days a week, play with my children. We have an outdoor movie theater, so we spend a lot of time at our outdoor movie theater."
HOW WOULD YOU SUM UP MUSKOGEE IN 25 WORDS OR LESS?
"A very friendly city with unbelievable potential and huge opportunity."
Originally Published on Muskogee Phoenix