From computer repair to web hosting and data backup services, SPARK Services is your go-to computer IT service in Muskogee.
SPARK Services has received dozens of reviews on three verified sites with an average rating of 4.91 stars, earning them an exemplary Rating Score™ of 96.15 and a 2019 Top Rated Local award for ranking among the top five computer IT services in all of Oklahoma!
Here's just one of their many five-star reviews:
"My computer was repaired my SPARK, and I was highly impressed with the results and their services. A good business starts at the top, and I met the owner, Mr. Allen. His work ethics and professionalism filters down throughout his staff. If you have a computer problem, take it to SPARK Services. You won't regret it." – Julius S.
Not Your Average Computer IT Service
Robert Allen, the owner of SPARK Services, generously gave us a few minutes of his time to tell us about this one-of-a-kind business and its award-winning online reputation.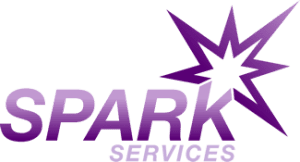 The first thing we wanted to know was what it is that sets SPARK Services apart from the many other computer IT services in Oklahoma. Robert told us that SPARK serves a range of clients, from Fortune 500 companies to small, mom-and-pop shops, and he shared their tagline with us, which is:
"Big enough to help, small enough to care."
Robert went on to tell us that SPARK is a husband-and-wife-owned company and that the name is an acronym for Savannah, Paige, Allen, Robert and Kristen.
We also wanted to know why they do what they do at SPARK Services and how they work to make the world a better place. Robert shared with us that they aim to offer the best computer repair services in Muskogee and said:
"We don't use or sell anything that I don't use myself. We tested our internet service for three years before we started selling it. We just focus on what we do well and on selling things that we use daily. We practice what we preach."
Building Success by Taking Care of Customers
When we asked Robert about SPARK Services' secret to such a strong online reputation, he said:
"Taking care of customers seems to get forgotten. When we started SPARK, we started with that in mind. One thing I do more than anything is seeing things from the other party's point of view. I always try to look through the customer's perspective — what we did wrong and what we did right. We all make mistakes, the difference is how we handle them when we make them."
Outside of building the kind of online reputation any business owner would envy, SPARK Services has spread the word about who they are and what they do through community involvement — they do community blood drives and Robert was recently elected to the Muskogee Mainstreet Board of Directors.
Clearly, Robert knows a thing or two about growing a business and building an online reputation. Here's his expert advice for the many other business owners out there:
"Make sure the business is something you truly love. Every morning, I can't wait to get out of bed to get work done. A lot of people make a business for money, and it isn't something they love. I'm a true geek at heart. It's something very near to me."
Congratulations to the team at SPARK Services for being a 2019 Top Rated Local award winner, and thank you so much, Robert, for taking the time to speak with us!
We highly recommend SPARK Services in Muskogee.
This blog was originally published here.